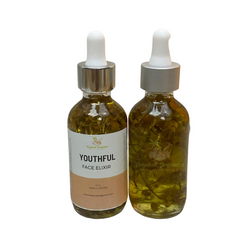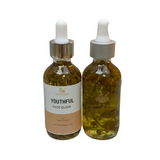 Youthful Face Elixir (Anti-Aging)
Youthful
Our Elixirs are a key ingredient to having beautiful, young, glowing skin! This blend of oils, herbs and extracts are not only moisturizing, but it has anti-aging properties to help prevent/reduce appearance of wrinkles and fine lines, as well as scars, & sun damage. 
Directions: Apply 2-3 drops to face in morning and evening after you apply your face cream to seal in moisture. You can use it as your makeup primer as well. 

Ingredients: Olive oil, grape seed oil, jojoba oil, sweet almond oil, neem oil, moringa oil, rosehips, wheat germ oil, meadowfoam seed oil, rosemary, lavender, chamomile flowers, sunflower oil, vitamin E and helichrysum.
Disclaimers:
Always do a patch test on hand or arm before applying a new product, especially if you have sensitive skin.
This Product Has not been Evaluated by the FDA
Consult a Physician before use.
Shelf life: 6 M 
Organic/ Paraben Free / Non- toxic / Cruelty Free / Fragrance free / Vegan
Shipping Policy
Current holiday processing time is 10-15 business days and may increase for larger orders. We are expecting to receive hundreds of orders Black Friday weekend, and will work as fast as possible to ship. Shipping will then take 2-3 business days using the United States Postal Service (USPS) priority mail or 7-10 business days via first class mail. In the case of a holiday, orders are shipped on the next business weekday. When shipped, you will receive an email containing your order tracking information.
*Please note that business days for shipping and processing times do not include weekends (Saturday & Sunday) and holidays. Processing time is an "additional" time frame separate to your shipping method of choice.
INTERNATIONAL SHIPPING
All international customs, taxes, and other fees are the responsibility of the customer. The cost will vary by value and country, so please be aware of what to expect before purchasing. Refunds are not given if a package is refused due to customs fees or any other reason.
So far I'm loving the product ✨️
Loving the product. But its way too early to tell the result.
Luxury in a bottle
This is one of my favorite oil. I am obsessed with all the oils so I maybe biased. I wouldn't be able to choose between this or any other facial oils because they are all luxurious and worth every Penny.
My aunt loves it
My aunt makes me purchase a bottle every month for her. She says it transformed her skin and she can't go a day without using her youthful elixir.
Obsessed
I am very happy with this product. I suffer from dull looking skin and relied heavily on botox and extras to lift and rejuvenate my face. I purchased a sample size for myself and am about to launch my brand. I plan on offering this because it has completely changed my face! I am obsessed!
Blessing & A Curse (read to end)
Okay, I bought this serum along with the other 2 facial serums for my brand. My customers loved them!! After all the hype my fiancé wanted to see what all the hype was about & STOLE a bottle off my shelf! Yes yall. He STOLE IT. Now i always tried to put him onto the skin care routine vibe but he was always against it… Tell me why, after he stole this, he started stealing my other products… 😮‍💨 Now im sitting here happy that he's finally on the herbal skin care wave but im really not feeling him snatching my oils and soaps off my shelf! 😭 This is a holy grail product but be careful yall. After one use…. Your man might not be able to keep his hands off YOUR skin care products