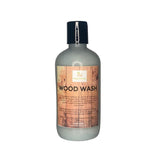 Natural, detergent free shower wash with anti-fungal, anti-bacterial and anti-inflammatory properties. The mixture of herbs and essential oils are particularly formulated for the male reproductive system. 
clean the penis and rid odor

May help increase libido and sexual function

May help increase blood flow
Directions: Apply onto a shower sponge and massage onto the penis, butt and thigh area in circular motions for 60 seconds to allow the ingredients to work. Rinse off and apply body oil while skin is damp to seal in moisture.
External use only. Safe to use on the rest of your body as well. 
Ingredients: Distilled water, apricot oil, safflower oil, horny goat weed, maca root, ginseng,  tongkat ali, muira puama, a special blend of essential oils, vitamin e, sodium chloride, cocamidopropyl betaine, citric acid, preservative, fragrance oil.
Always do a patch test. Discontinue Use if irritation occurs. 
Shipping Policy
Current holiday processing time is 10-15 business days and may increase for larger orders. We are expecting to receive hundreds of orders Black Friday weekend, and will work as fast as possible to ship. Shipping will then take 2-3 business days using the United States Postal Service (USPS) priority mail or 7-10 business days via first class mail. In the case of a holiday, orders are shipped on the next business weekday. When shipped, you will receive an email containing your order tracking information.
*Please note that business days for shipping and processing times do not include weekends (Saturday & Sunday) and holidays. Processing time is an "additional" time frame separate to your shipping method of choice.
INTERNATIONAL SHIPPING
All international customs, taxes, and other fees are the responsibility of the customer. The cost will vary by value and country, so please be aware of what to expect before purchasing. Refunds are not given if a package is refused due to customs fees or any other reason.
5 stars
Wifey here- I used to get my ph thrown off so bad after intercourse with my man. We tried different soaps and practices. BUT LET ME TELL YOU! This product has transformed our livesss. Im in tears. No issues anymore. I use the yoni wash and he uses the wood wash. No irritation, no more constant yeast infections oh and the "fun time" is wayyy more spicy. You can tell that the products give you a "boost". I need y'all to keep making this product
Great
This is the best product I purchased. Works immediately.
Works wonders
Hubby loves it . At first he was skeptical but then it started working and making him feel fresh and energized . He loves it .
Must buy !!!
Must Buy!!!
This product does EXACTLY what it was produced to do and it also smells great!
Hubby loves it and so do I *Wink*
Nice product
Bloodclot!!! Dis good! Definitely works, smells great, have mi like energizer bunny lol. #shott