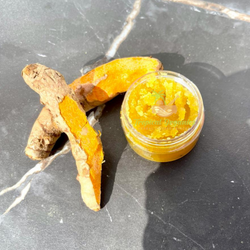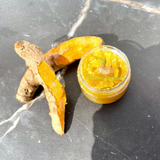 Turmeric Takeover Lip Scrub
Turmeric Takeover Lip Scrub (1oz)
Turmeric Takeover will help heal, exfoliate and lighten discolored lips. 
Each lip scrub exfoliates the lips, removes dead chapped skin cells, and leaves your lips hydrated. Exfoliating your lips is a necessary step in a proper skincare regimen.
Ingredients: white sugar, brown sugar,  honey, moringa, sunflower oil, olive oil, turmeric, lemon, helichyrsum, apricot oil, hemp oil, Vitamin E, flavor oil, preservative
Directions: Take a pea-sized amount and gently scrub your lips for a least a full minute, then wash or wipe away access. Don' worry, if you happen to taste some of your product, it is ok! 
Shelf Life: 6-8 Months 
Natural | Non Toxic |Vegan | Paraban Free | Cruelty Free!
*Always do a patch test on hand or arm before applying a new product, especially if you have sensitive skin. If irritation occurs, discontinue and seek medical attention. 
Storage
Store in a cool, dry place at room temperature. Keep out of direct sunlight and humidity.
Shipping Policy
Current holiday processing time is 10-15 business days and may increase for larger orders. We are expecting to receive hundreds of orders Black Friday weekend, and will work as fast as possible to ship. Shipping will then take 2-3 business days using the United States Postal Service (USPS) priority mail or 7-10 business days via first class mail. In the case of a holiday, orders are shipped on the next business weekday. When shipped, you will receive an email containing your order tracking information.
*Please note that business days for shipping and processing times do not include weekends (Saturday & Sunday) and holidays. Processing time is an "additional" time frame separate to your shipping method of choice.
INTERNATIONAL SHIPPING
All international customs, taxes, and other fees are the responsibility of the customer. The cost will vary by value and country, so please be aware of what to expect before purchasing. Refunds are not given if a package is refused due to customs fees or any other reason.
It works!
I have always neglected my lips but decided to give this product a try. I am so amazed at how great my lips feel. My lips now have new life and I plan to continue my improvement. Great product! I highly recommend
Amazing
Love this scrub helped with dark lips the first use and get better each time.
I only used it once but so far so good I like it
Great
Use this and ultimate healing lip balm. Def works with fixing smokers lips
My lips never looked better.
I'm a male who smokes. This has lightened and softened my lips. I use the Lip Balm as well. Great product and it works. Thanks