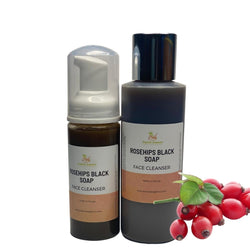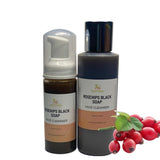 Rosehips African Black (Acne-Prone) Face Cleanser
If you love African Black Soap Bars, you'll love this liquid Face Cleanser due to the amazing ingredients we added in to make it more luxurious, beneficial and great for all skin types. The results …an amazingly effective all natural beauty product without even a drop of chemicals. No artificial colors. No preservatives. No fragrance oils.
*Not suggested for sensitive skin*

Benefits:

1. Ideal for oily and acne prone skin
2. Antibacterial and Anti-Inflammatory properties
3. Helps treat acne and reduces dark spots                    
4. Helps reduce fine lines and wrinkles
5. Helps reduce the appearance of dark spots
6. Helps reduce razor bumps
7. Makeup Remover
8. Helps reduce the impact of eczema and psoriasis
9. Naturally exfoliating.                                                       
10. Reduces oily skin                                                              
11. Firms and tones skin                                                          
12. Can be used in hair and on body
Ingredients: water, plantain skin, cocoa pods, palm tree leaves, and shea tree bark, rosehips, jojoba oil, tea tree
How To Use:
Lightly massage onto wet face for 60 seconds. Remove with warm water and immediately follow up with our face toner, moisturizer and face serum. Recommended for daily use.

*These statements have not been evaluated by the Food and Drug Administration. This product is not intended to diagnose, treat, cure or prevent any disease.
Shipping Policy
Current holiday processing time is 10-15 business days and may increase for larger orders. We are expecting to receive hundreds of orders Black Friday weekend, and will work as fast as possible to ship. Shipping will then take 2-3 business days using the United States Postal Service (USPS) priority mail or 7-10 business days via first class mail. In the case of a holiday, orders are shipped on the next business weekday. When shipped, you will receive an email containing your order tracking information.
*Please note that business days for shipping and processing times do not include weekends (Saturday & Sunday) and holidays. Processing time is an "additional" time frame separate to your shipping method of choice.
INTERNATIONAL SHIPPING
All international customs, taxes, and other fees are the responsibility of the customer. The cost will vary by value and country, so please be aware of what to expect before purchasing. Refunds are not given if a package is refused due to customs fees or any other reason.
Holy Grail Cleanser!
This cleanser is my holy grail!
Rosehip black soap
Recently tried this black soap a small amount goes a long way...I use the face the day serum after use to fight acne and fade my post acne marks ...
Fantastic!
Liquid gold ✨ Also adding this to my skincare lineup. I will put it in foam bottles to avoid product waste. This cleared my partners razor bumps in a day without causing dryness or irritation! Must have for a successful skincare routine. 🖤
Clean
This facial cleanser has your face feeling refresh and not dry.
Amazing product!
One of my clients that doesn't have sensitive skin tried this soap alone day and night for 1 week and it was already showing a big difference! All of his bumps around his beard area cleared in no time! And his skin tone even out so well this soap is amazing! Definitely having this product for my business!