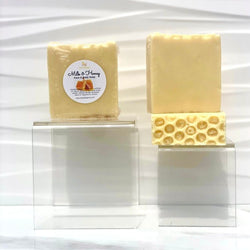 Milk & Honey Soap
A soft and creamy blend of goat's milk and raw honey makes this soap so luxurious, moisturizing and gentle. This soap is great for all skin types, but  especially recommended for those with eczema, and psoriasis. 
Why goat's milk? Not only does it give the soap a rich, creamy lather, but it is very moisturizing. Goat milk contains a bunch of vitamins, and hydroxyl acids, which is a fancy way of saying that it helps to dissolve damaged and old dead skin cells so that the fresh new ones can come through, keeping your skin soft, glowy, and vibrant. 
Raw honey: a natural humectant which attracts and keeps skin moisturized, loaded with antioxidants, enzymes, and other nutrients.
Oatmeal: is a gentle exfoliant. It soothes and moisturizes sensitive or irritated skin.
Ingredients: Goat's milk, glycerin, sunflower oil, olive oil, apricot oil, raw honey, colloidal oatmeal, oat extract, vitamin E, fragrance oil, turmeric.
❖ USE

This soap can be used on both your face and body, and will leave your skin feeling nourished and pampered. Put all homemade soaps in our draining soap dishes to expand their lifetime. 
Disclaimers:
Always do a patch test on a hand or arm before applying a new product, especially if you have sensitive skin.
This Product Has not been Evaluated by the FDA
Consult a Physician before use
*No Preservatives *No Phthalates *Non-GMO *Skin Safe Fragrance
*Cruelty-Free 
Shipping Policy
Current holiday processing time is 10-15 business days and may increase for larger orders. We are expecting to receive hundreds of orders Black Friday weekend, and will work as fast as possible to ship. Shipping will then take 2-3 business days using the United States Postal Service (USPS) priority mail or 7-10 business days via first class mail. In the case of a holiday, orders are shipped on the next business weekday. When shipped, you will receive an email containing your order tracking information.
*Please note that business days for shipping and processing times do not include weekends (Saturday & Sunday) and holidays. Processing time is an "additional" time frame separate to your shipping method of choice.
INTERNATIONAL SHIPPING
All international customs, taxes, and other fees are the responsibility of the customer. The cost will vary by value and country, so please be aware of what to expect before purchasing. Refunds are not given if a package is refused due to customs fees or any other reason.
BUY IMMEDIATELY
Along with the turmeric soap my customers love the milk and honey soap! Not only does it moisturize the skin it also helps with any irritation. I personally love to use this soap after a day at the beach because it helps soothe and nourish my skin because of how gentle it is. I highly recommend purchasing this soap if you haven't already!
One of my favorite
This soap was gave to me as a sample. I am so happy I have found a soap that my face enjoyed. I seen results in 2 days of using it on my face. I love the results
Get it!
So I got the sample of soap and oil. I had my daughter to test it out on my grandchildren, they all have eczema. Mu twin granddaughters have it bad. It cleared their skin so well! My daughter was like I need more! Definitely will be a new product for our company!!!
Looooove it
I got this as a sample and now I can't wait to buy a bigger size! I can't believe the smooth lather, the nice scent, but most of all HOW SOFT my skin is. It feels like I used lotion after the shower even before I do that! highly recommend
Smooth and Soothed
After a long day of being outside nothing feels better than rubbing this milky sweet soap on my body. I always leave the shower feeling like I can run my hands over my skin all night!