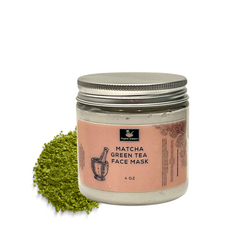 Matcha Green Tea (Anti-Aging) Face Mask
Matcha Green Tea (Anti-Aging) Creamy Face Mask -
Green Tea and Matcha make this mask perfect for Anti-aging, reducing puffiness, revitalizing the skin and hydrating tired dull skin. 
A creamy face mask that works to improve your skin's texture, smooth deep wrinkles and support healing with its gentle yet powerful formula. This face mask is loaded with minerals such as Zinc, Magnesium and Copper to improve the vitality of your skin.
*Requires no additional mixing or ingredients*

Size:4oz
Ingredients: Deionized Water, Kaolin Clay, Glycerin, Castor Oil, Green Tea extract, Matcha powder, Rice Bran Extract, Rosemary Leaf Extract, Sunflower Extract, Cetearyl Alcohol, Glyceryl Stearate, PEG-100 Stearate, Magnesium, Stearic Acid, Cetyl Alcohol, Magnesium, Zinc, Copper, Raw Vitamin E, Preservative.
Directions: Apply to clean skin with hands or a face mask brush. Do not use metal utensils because it will deactivate the mask. Leave on for 10 minutes and wash off with warm water. Follow with our Face Toner and Face Moisturizers. 
Avoid use if irritation occurs. 
Shipping Policy
Current holiday processing time is 6-12 business days and may increase for larger orders. Shipping will then take 2-3 business days using the United States Postal Service (USPS) priority mail or 7-10 business days via first class mail. In the case of a holiday, orders are shipped on the next business weekday. When shipped, you will receive an email containing your order tracking information.
*Please note that business days for shipping and processing times do not include weekends (Saturday & Sunday) and holidays. Processing time is an "additional" time frame separate to your shipping method of choice.
INTERNATIONAL SHIPPING
All international customs, taxes, and other fees are the responsibility of the customer. The cost will vary by value and country, so please be aware of what to expect before purchasing. Refunds are not given if a package is refused due to customs fees or any other reason.