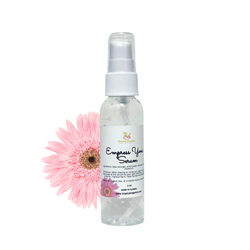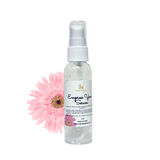 Empress Relief Gel Serum was formulated as an astringent to avoid irritation, ingrown hairs, razor bumps and inflammation with natural ingredients. This serum can be used on any area of the body that you shave/wax every part of the body as well! 
Directions: After shaving or using your yoni scrub, apply a few pumps of the serum to the external parts of the vagina, bikini line, inner thighs, eyebrows, and burns
Ingredients: Aloe vera gel, witch hazel, lavender, tea tree, vitamin E. 
BENEFITS
Antibacterial and anti-fungal.
Moisturizes
Healing and soothing
Prevent and help with razor bumps
Reduce irritation and redness
Helps with thigh chafing
Disclaimers:
Always do a patch test on hand or arm before applying a new product, especially if you have sensitive skin. Safe to use on other areas of the skin!
This Product Has not been Evaluated by the FDA. Discontinue use if irritation occurs.
Shelf life: 6 M 
Organic/ Paraben Free / Non- toxic / Cruelty Free / Fragrance free / Vegan
Shipping Policy
Current holiday processing time is 6-12 business days and may increase for larger orders. Shipping will then take 2-3 business days using the United States Postal Service (USPS) priority mail or 7-10 business days via first class mail. In the case of a holiday, orders are shipped on the next business weekday. When shipped, you will receive an email containing your order tracking information.
*Please note that business days for shipping and processing times do not include weekends (Saturday & Sunday) and holidays. Processing time is an "additional" time frame separate to your shipping method of choice.
INTERNATIONAL SHIPPING
All international customs, taxes, and other fees are the responsibility of the customer. The cost will vary by value and country, so please be aware of what to expect before purchasing. Refunds are not given if a package is refused due to customs fees or any other reason.
Ingrown Hairs?! Don't know her!
LOVE this product. As someone who is prone to getting ingrowns and has tried damn near everything, THIS was it for me. I didn't even think to use it as a shaving gel until I read someone's review and I'm so glad I did. A little definitely goes a long way. If you have existing and/or painful ingrowns, using this plus ultimate healing soap on the area gets the job done.
Works!
This is my fav out of the yoni products! Literally a must to stop chaffing and also I use it as a shaving gel. Helps give you a very close shave with no irritation.