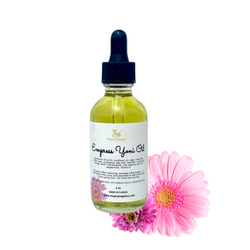 Divine Yoni Oil
Our Herbal Empress Yoni Oil is consciously crafted with an infusion of 15 organic herbs which are known to maintain vaginal wellness. Yes 15!!!! 
The Herbs used have benefits that:  
Anti-bacterial, Anti-fungal and an antibiotic
May help to decrease painful long periods and cramps
May help with Ingrown Hairs
May help increase wetness
May help Helps fight Yeast Infections, BV and help with UTIs
May help Increase Sexual Desire
A cool and warm sensation
Natural aphrodisiac
May help reduce inflammation 
Good for after intercourse to help prevent bad bacteria or pain.
May help promote vaginal health 
Directions:  After cleansing, massage a few drops 2 - 3 times daily on the vulva (apply onto the labia majora, the labia minora, clitoris) until absorbed.
Do not use if pregnant - check out our new Delicate yoni collection
For external use only due to the essential oils).  You can also add a few drops to a panty liner and allow the oils to absorb into the skin. For menstrual cramps, add a few drops to your tummy and external vaginal area before and during cycle.
Ingredients:  Olive Oil, sunflower oil, sage, calendula, nettle, roses, eucalyptus, bay leaf, lavender, rosemary, moringa, neem, marshmallow leaf, red raspberry leaf, tea tree, peppermint, thyme, oregano, vitamin E
Disclaimers:
DO NOT USE WITH CONDOMS. THE OIL WILL DISSOLVE THE LATEX. Studies show that any oil-based lubricant can destroy latex condoms very quickly.
Always do a patch test on hand or arm before applying a new product, especially if you have sensitive skin. Safe to use on other areas of the skin.
This Product Has not been Evaluated by the FDA. Discontinue use if irritation occurs.
Don't use if Pregnant due to the neem and oregano. Check out our New Delicate Yoni Collection
Shelf life: 6-12 M 
Organic/ Paraben Free / Non- toxic / Cruelty Free / Fragrance free / Vegan
Shipping Policy
Current holiday processing time is 6-12 business days and may increase for larger orders. Shipping will then take 2-3 business days using the United States Postal Service (USPS) priority mail or 7-10 business days via first class mail. In the case of a holiday, orders are shipped on the next business weekday. When shipped, you will receive an email containing your order tracking information.
*Please note that business days for shipping and processing times do not include weekends (Saturday & Sunday) and holidays. Processing time is an "additional" time frame separate to your shipping method of choice.
INTERNATIONAL SHIPPING
All international customs, taxes, and other fees are the responsibility of the customer. The cost will vary by value and country, so please be aware of what to expect before purchasing. Refunds are not given if a package is refused due to customs fees or any other reason.
Yoni oil
I recommend this yoni oil to anyone it is expectional!! And a really great oil for your cookie box .It really is amazing sensational ❤️
Empress Yoni Oil
This yoni oil feels very silky when being applied...I feel a slight warming sensation when applying...This oil helps keeps my yoni moist and nourished
Best Yoni Oil!! B
I am in love with oil!!!! No odors or irritation anytime I use it, and I love the cooking sensation it gives after you put it on. It's the best yoni oil I've ever used!
Yoni Holy Grail!!!
Empress yoni oil is definitely the type of ammo you bring to a daily healthy yoni war!!
This oil moisturizes and will have your yoni gleaming. #TheDailyYoniRazzleDazzle
Holy Grail
Vagina holy grail !!! Must have ! !