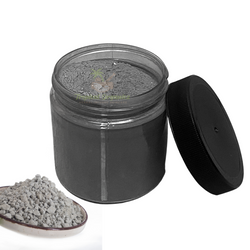 Underarm Detox and Brightening Mask
If you use store-bought deodorants and antiperspirants chances are you have built up toxins in your skin. Our bodies are designed to secrete toxins and cool ourselves down through our glands, like our armpits. Most deodorants are designed to stop sweating using aluminum, which clogs our glands, causing our bodies to build up with heavy metals and toxins, because of the ingredients in them!


This mask will also brighten dark pits from shaving and such. Also, when switching to natural deodorant it is suggested to use this method to detox. To rid all odors it can take 2 weeks to one month.
Although you will still sweat, you will notice that you won't smell and that you will be able to go hours and in many cases days without wearing deodorant.
Ingredients: Bentonite clay, kaolin clay, charcoal, turmeric, aloe vera
Directions:
Mix one part clay to one part water. Using a non- metal spoon and bowl, stir the mixture to a smooth paste and  apply to armpits. Let dry for 5-10 minutes and rinse with warm water. Use daily for 1-2 weeks to detox and brighten.
*Try combining this mask with Apple Cider Vinegar, Almond Milk, Aloe Vera, Hydrosol, or a few drops of your favorite Carrier Oil for added benefits.
To extend its life we recommend storing in a cool, dry environment away from sunlight.
Disclaimers:
Always do a patch test on hand or arm before applying a new product, especially if you have sensitive skin.
If irritation occurs, discontinue use.
This Product Has not been Evaluated by the FDA
Consult a Physician before use.
Shelf life: 12M
Shipping Policy
Current holiday processing time is 6-12 business days and may increase for larger orders. Shipping will then take 2-3 business days using the United States Postal Service (USPS) priority mail or 7-10 business days via first class mail. In the case of a holiday, orders are shipped on the next business weekday. When shipped, you will receive an email containing your order tracking information.
*Please note that business days for shipping and processing times do not include weekends (Saturday & Sunday) and holidays. Processing time is an "additional" time frame separate to your shipping method of choice.
INTERNATIONAL SHIPPING
All international customs, taxes, and other fees are the responsibility of the customer. The cost will vary by value and country, so please be aware of what to expect before purchasing. Refunds are not given if a package is refused due to customs fees or any other reason.
In love!
I used this mask on my face as the first detox clay mask ever used. After applying and rinsing it felt like I had a new "fresh" layer of skin. My skin feels extremely smooth and soft I love it! Going to try this on my armpits and inner thighs next !
Amazing
I use this product every weekend to detox and I no longer get bumps and boils under my arms which used to be painful.
SAVIOR OF MY ARMPITS
Y'all this here saved my armpits. I have hidradenitis suppurativa so I get frequent boils under my arm. Once I started using this I barely get any flare ups! I am forever grateful for this because getting I&Ds every other month wasn't it. Shak and Rob THANK YOU!!!!!
Strong odor be gone
When I say I was using aluminum deodorant. Where I was dependent on it . When I started using this under arm detox , I don't have to use much of any deodorant. That was clogging my pores and lymnodes . This is truly a life saver .!!!!
WOW
Used everyday for a week as advised and watched all the build up come out my pours. My pits smelled for the first few days getting all those chemicals out. Now I haven't worn deodorant in 1 week. I'm soooo shocked. No smell whatsoever. It also lightened my underarms. You have to get past the detox phase and then your life changes. THANK YOUUUUU 10 stars if I could!