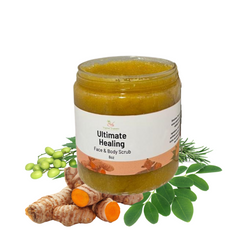 Ultimate Healing Cleansing Face and Body Scrub
Ultimate Healing Cleansing Face and Body Scrub has antioxidant, anti-inflammatory, and antiseptic properties that detoxes the skin, giving it a super deep clean. Exfoliating is a key step in revitalizing and maintaining healthy skin! 
Proper exfoliation removes the barrier of dead skin cells clogging the skin and uncovers fresh new cells below. This opens the way for moisturizing products to penetrate more deeply into the skin, which makes them more effective. In short, a regular exfoliating routine will leave your skin looking fresh and healthy.
Benefits:  provides a gentle exfoliation to remove dead skin  cells while producing a great lather for a deep clean. Helps with stretch marks, discoloration, and scarring. This scrub will not leave you feeling super oily and actually produces a gentle foam. 
Ingredients:  brown sugars, cane sugar, almond oil, safflower oil, sunflower oil, olive oil, coconut oil, avocado oil, whipped soap, shea butter, soy butter, grapeseed oil,  hemp oil, moringa, neem, turmeric, raw vitamin e, lemon, tea tree, clove, (preservative). 
Directions: First wet skin with water. Using our exfoliating tool, scoop a quarter size amount and apply directly to the skin while rubbing in a circular motion for a min of 60 seconds. 
Disclaimers:
Always do a patch test on hand or arm before applying a new product, especially if you have sensitive skin. If irritation occurs, discontinue use. 
This Product Has not been Evaluated by the FDA
Shelf life: 6-12 M
Natural | Non Toxic |Vegan | Paraban Free | Cruelty Free!
Shipping Policy
Current holiday processing time is 6-12 business days and may increase for larger orders. Shipping will then take 2-3 business days using the United States Postal Service (USPS) priority mail or 7-10 business days via first class mail. In the case of a holiday, orders are shipped on the next business weekday. When shipped, you will receive an email containing your order tracking information.
*Please note that business days for shipping and processing times do not include weekends (Saturday & Sunday) and holidays. Processing time is an "additional" time frame separate to your shipping method of choice.
INTERNATIONAL SHIPPING
All international customs, taxes, and other fees are the responsibility of the customer. The cost will vary by value and country, so please be aware of what to expect before purchasing. Refunds are not given if a package is refused due to customs fees or any other reason.
Skin Glow
I love the way the scrub gives my skin that smooth clean look and feel without feeling like I almost scrubbed my skin off. Has also been great for my daughter's eczema.
Body scrub
It is really good product, I use it in my face. It works really good.
Tumeric facial scrub
I really enjoy using this scrub very gentle but effective with smoothing away any dry spots on my face and body ...Rinses clean no oily residue after use...
Amazing products
Got acne or dark spots. Get this a miracle in a container.